Advertising on Facebook is not the same as advertising online so when creating Facebook ads you need to keep a few things in mind. Facebook is a social media website so majority of the users visit the site to socialize with family and friends. They are not looking for new products or services so most users will not appreciate a direct promotion. If you are a small business that have a product to sell, you can a good result from your Facebook ads when you do it right.
Advertising on the current #1 social media website can be a bit exciting. But no matter how excited you are with the prospect of getting more potential customers, you need to think through your strategy. You have to understand that there are other types of advertising method on the internet and all of them are different from Facebook ads. So, if you want a good return on your investment, you have to work smart and you can start with building relationship.
Creating relationship with your visitors is crucial so you will not waste your money paying for advertisement. There are several ways to create a relationship with Facebook users. For example, you can greet people on their birthdays or anniversary. You can also run a promotion that will save people money buying your product or services. Giving away coupons or gifts are also great way to attract and ensure people stay connected with your page. Come to think of it! You can also use your facebook ads to offer tips that will help your audience.
Now that you have an idea on how to create relationship with users through your facebook advertisement, you can now start advertising.
Step to Create Facebook Ads
Below is the step by step procedure to advertise on Facebook.
Step #1
The first thing you need to do is create a facebook account. By the way, you need a fan or business page to start your Facebook ads. So, if you don't have one create one now. It is easy to create a business page you don't need to be a genius to be figured it out.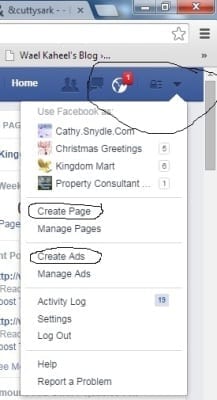 On the right side of the panel, click the last icon and scroll down to "create page".
Once you have created your business page. Promote your page or website and you can start by clicking "build your audience".
Step#2
To create your advertisement click on the tab "build your audience" you will be redirected to another page.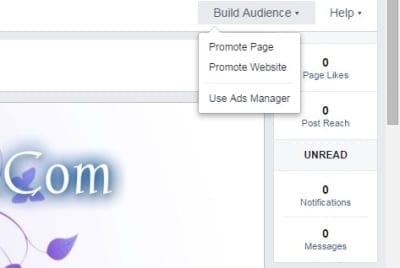 When creating advertisement, select the audience you would like your Facebook ad to show.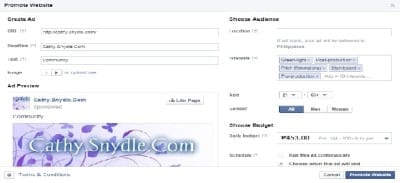 Facebook advertisement program allows advertiser to select their demographics such as gender, city, age, country, interest and more. In other words, you only target the users that fit your products and business.
Step #3
Create text and image based ads to attract more people to your Facebook business page and website. The ads will help your business page or direct people to your website and increase your traffic.
Step #4
Next select the Facebook advertisement you want to run for your page or website. You have a choice, CPM or CPC. With cost per click you only pay for advertising when your prospect clicks on your Facebook ads while CPM you pay a set of amount for the number of times your ads is shown.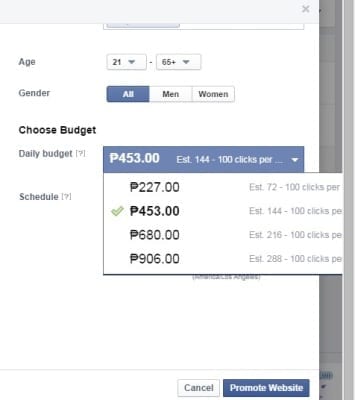 Step #5
Once done, activate your Facebook advertisement so you ads are displayed across the platform.