Are you looking for ways to make money online? Many people are turning to the internet to get extra cash. The internet provides opportunity for people to earn cash from home on their free time or as a full time career. If you have a smartphone or computer, there is a way for you to make money and boost your bank account.
Freelancing is fast becoming a trend with the advantages of making money online. Basically, anyone with a computer and internet connection can make money without leaving the comfort of their home. People can make money from selling other people's product (affiliate marketing), website design, surveys and writing articles. There are several websites that offer these opportunities but I will just discuss writing sites that pays and does not require bidding for a project.
Bubblews
Bubblews is a writing site that shares revenue to users but promoted as a social media websites. This is a website that is open to anyone who can write in English. It is open to people who can write unique article with 400 characters. This site is extremely popular because the site does not require top notch writing. The site encourages bubblers to share their world then they are paid for every likes, comments and views.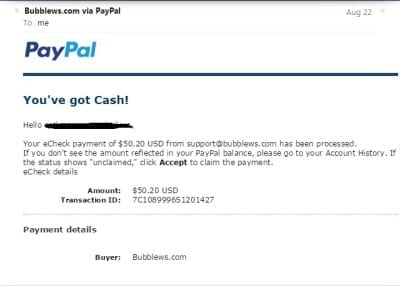 The payment for users is in accordance to where they reside. Bubblers from US, Canada, UK, and Australia are paid within 30-35 days while other (International users) users are paid within 60 to 90 days. But of course, you need to meet the minimum amount which is $50 to redeem. There is no joining fee with bubblews, just sign up and write your first content to get started.
iWriter.com
iWriter is another writing site that you can join. This site offer opportunity to make money online from writing quality content. You can make decent money from this site especially if your ranking is elite. The rate for article depends on the writers ranking. For example, Elite writers can earn $16 for writing a 150-300 words article while Basic writers earn $1.50 for a 150 words article.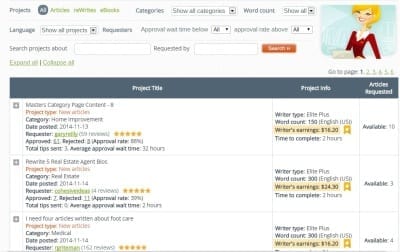 The best thing about iWriter is that they pay on time. With iWriters you are the one to set the frequency of payment like weekly or monthly. I have set my payment schedule to weekly, so I can expect payment to my Paypal account every Tuesday. A writer can make $20-$40 a day even with a rejected article.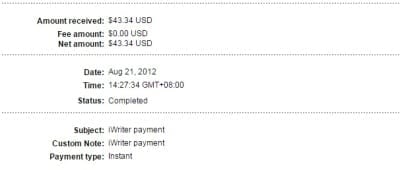 iWriter is a great site as you get to choose your own subject. It is the site for people who can write decent article on a prescribed time. There is a timer set per project, so if you can't write decent articles quickly then this is not the site for you. But if you can research and write quality articles, you can make extra cash at iWriter.com.
Daily Two Cents
Daily Two Cents is a casual site where you can earn two cents writing articles. It is easy to join this site, just sign up then write about anything you are interested in. Make money by sharing your articles with friends, reading other post and commenting. This is the site wherein you can make more money when you write more articles daily.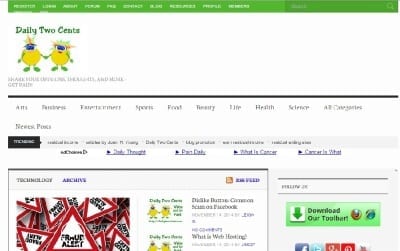 With this site, you can make money writing about what you do daily. You can make money sharing your family recipe, talking about your favorite television show and whatever you feel like sharing to the world. But there is a word count requirement, your article must contain 50 words and unique. They pay $5 per 1000 views which is why you need to write a lot and because there is no limit, your earnings depend on your output.
Fiverr
Fiverr is the world's largest marketplace for services. This site is open to all, so anyone can make money from Fiverr. It is easy to make money from this site, just advertised your service. Get paid to write for $5 or do whatever people are willing to pay for on this site.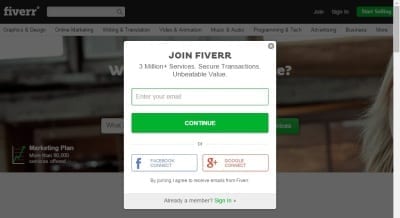 These writing sites offer opportunity for people who are willing to write to make extra cash. Writing articles online is one of the ways to make money from home. On my next post, I will discuss some of the freelancing sites that you can join to make money online from doing different things such as encoding, website design, etc.
You can also make money from being an affiliate marketer. This is another ways to get paid online.