Facebook business page is a great place to share your business new products, services or updates. Small businesses that wish to promote their product and increase their sales can do so through a fan page. Creating a business page in Facebook can help your business greatly as you can reach more potential customers. And since it only takes a few minutes to create a fan page, many people make mistakes.
It is easy to create fan page for Facebook but keeping the page updated is a different story. Anyone can create a fan page for their small business or organization you can have one in just a few minutes. But the problem is not with creating a fan page but in making sure the page is run properly.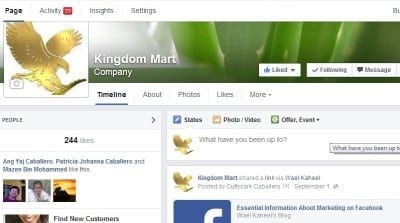 Facebook Business Page
Avoiding the common mistakes of many business pages is possible you just have to remember a few things.
1. Follow The Rules
Many business pages have been deleted by Facebook for not following their rules. Some business pages that got deleted even got 10,000 fans so if you have a big follower, losing your fan page is going to hurt. Take note, the key to avoid deletion is to follow their rules to the letter.
Facebook is a gift to small business that follows the rules, but to rule the breakers, they show no mercy. You can break the rules but never Facebook rules because you be shutdown without prior notice.
2. Post Regular Content
Posting informative content is important in Facebook. It is a bad idea to just post when you just feel like it, your fans will hate your page and Facebook will know it. Keep in mind that your fans liked your page because they wanted to get more quality content so deliver what your Fans want and your safe.
3. Don't Be A Snob
You created a fan page to get to know your customers and not ignore them. In Facebook, it is crucial that you respond to comments and messages or else your fans won't like it. They can leave you anytime if you just ignore them. So, check your page at least once a day to know what is happening.
Facebook fan page is created primarily to keep the line of communication open with customers. So, engage your fans, do not ignore them.
4. Feedback Tool
You can use your facebook for many things, including surveys. When you have a big number of followers, you can get a reliable feedback about your product by simply posting a question or statement. Posting engaging question can also increase your fan page engagement stats. So, utilize your facebook business page to improve your products and services.
5. Promote Love Not Hate
The press is already full of negativity you can read hateful content and news from the different forms of media. No need to make your page another source of gloom, doom and bad post. Share only what you think bring a positive vibe to your fans and not bad vibes. In other words, share love not hate so people will keep coming back to your page.