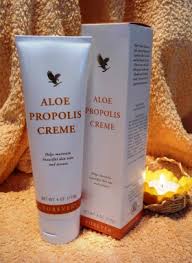 Are you wondering about Aloe Propolis Creme efficiency in providing soothing relief? These days, you can find hundreds of products online and offline offering relief or solutions to skin problems like acne or eczema. The different brands of skin care products can make it difficult to find the best relief. If you are looking to find a solution to dry skin, acne or just want to improve your skin texture, read on as this article talks about Forever Living skin care products the Aloe Propolis Crème.
What is Aloe Propolis Creme?
Aloe Propolis Creme is an excellent skin conditioner and moisturizer. The crème is applied directly to the skin to support and protect it.
The skin care lotion ingredients, include Bee Propolis and stabilized Aloe Vera Gel, as well as other essential vitamins like Vit A and E. This skin moisturizer and conditioner popular because it contains chamomile, a popular skin care herb and other ingredients that when combined help maintain the skin texture and tone.
Aloe Propolis Creme is excellent to use since applying a liberal amount of lotion to the skin will bring you:
Soothing relief,
Healthy skin,
Even skin tone,
And remedy to nasty skin problems…
Why Use Aloe Propolis Creme
I can give you many reasons why you should try using this skin care treatment, but it would take a lot of writing, so I will just simplify and summarizes the reasons why you should consider using this crème.
Reasons to use:
The lotion smells wonderful
It prevents dry skin
It provides vitamins A and E
Easy to use
Safe To use
Affordable
Aloe Propolis Crème is perfect to use as you can benefit from its rich ingredients whether you have a skin problem or not. This skin care product provides more than just solution to acne, eczema, dry skin and more. Many people love using this lotion also because unlike other products, it does not make you feel oily and most importantly the lotion makes the skin smooth and soft.
For more information about the product or Forever Living just visit our website.