Tsu is a new social network that pays users to share content. Many internet users are joining tsu hoping to earn some money quick. The site offers opportunity to make extra buck while socializing with friends and family. This is a tsu review, my opinion about the new social network that is making waves online.
Launched on October 14, Tsu has $7 million investment from Sancus Capital Prive before launch. So, they have money to pay users who reach the threshold and redeem. This social network is like Facebook for it also has a home page, timeline, like and share button. But it is also different because it rewards users who share content something that Facebook and other social network giants don't do.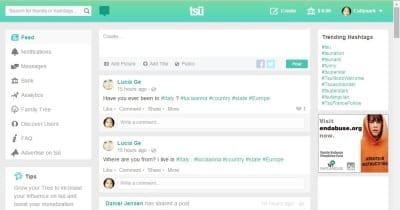 Tsu is open to everyone but you need an invitation code to join the site and you must be of legal age. If you want to join the site you need to encode a short code to enter the site and create an account. You can use mine if you don't know someone else's code.
What Do I Think of Tsu?
In my opinion, tsu is a great social network. The site has great feature and clean interface that makes it easy to navigate the site. It also has notification feature so you will know instantly who comments, liked your post and follows you. But like other social networks, there are spammers and troll, which you can easily ignore pr block.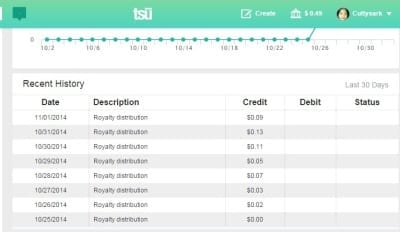 I have been on Tsu for a week and have already earned pennies. Yes, just pennies because you don't get rich quick by joining tsu. In fact, this site is not a place for you if you want to get rich quick. Take note, even though the site shares 90 percent of the revenue to users, you don't earn money outright not even by sharing quality content.
How much can you earn in a day? It depends on what you do and how many hours you spend on tsu. There are several ways to make money on tsu, building a solid family is one way. I will talk about how you can make money on tsu lengthily next time, today you just need to understand what is tsu and what you can expect from joining this site.
Anyway, I have gained a large number of followers and friends after just a week on tsu. It's a new social network so everyone on the site wants to be friends and be chummy with you even people you don't know. The people who will be following you are from across the globe so you have a chance to meet people from all walks of life.
If you love socializing on social networks then tsu is the place to be. This is because everyone is begging to be your friend or follower. Come to think of it! If you are the type who shares a lot of contents or images on Facebook, Twitter and Instagram, you should definitely join tsu. You can make money while doing what you do every day on social networking sites.
Tsu hands down is a great social network. Bloggers, website owners and affiliate marketers can share their content on tsu and earn while promoting their site. Take note, tsu is a new social networking site that is by invitation only. You need an invitation code to create an account and start your own family at tsu.