Have you heard of Tsu? If you have never heard of Tsu then this is your lucky day. Tsu is a new social media website that looks like Facebook. It is a new social network launched last Tuesday with $7 million investment. Tsu is making a name on the internet as another revenue sharing platform that pays users to post.
Tsu is not the first social network that share revenue to users, Bubblews another social media network founded in 2012 also pays users when they write content and share them. Users make money by generating engagements. Both website has the same idea, paying users for sharing their content.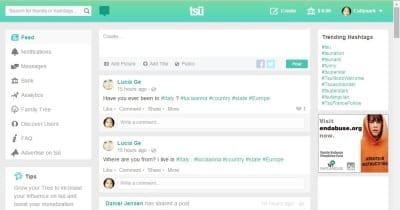 All the revenue that the new social network generates in one day is distributed to the users accordingly. Tsu is splitting 90 percent of its ad revenue with the users, paying them for posting and inviting friends and family to join. This is a social network that uses MLM idea for sharing revenue.
Tsu works the same way as other social media network. The difference between tsu and popular social network like Facebook, users earn from sharing content and engagement. Tsu generate fund from page views and they take 10 percent. The rest of the money generated by the site goes to the users.
With Tsu, the more views and likes your post generate the larger your portion of the pie. In other words, you need a lot of engagement to make money on Tsu. Celebrities and those who have a large number of followers on Facebook, Twitter and Instagram have a chance at making money if they can bring their followers to Tsu. By the way, the allure of money does not mean that this new social network is going to dethrone the king of social media –Facebook anytime soon.
Affiliate marketers, freelance writers and people who want to earn extra buck on the side will find Tsu monetary compensation too good to ignore. Take note, Tsu is by invite only so you cannot just join the site without hooking up with someone. Every users have a short code or invitation code they can share to invite people to the site. So, if you want to join the site you need to type the short code or invitation code. Tsu is free to use, anyone can join and earn from the site by sharing content.
To join just type sashagirl or copy paste http://tsu.co/sashagirl to your URL.