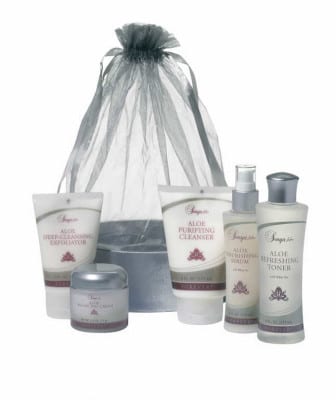 For hundreds of years, even before man discovered the moon, people have been using the Aloe Vera plant to treat their wounds, clean their hair and many more. Aloe Vera plant contains essential nutrients that can help prevent the onset of wrinkles, fine lines and other signs of aging. Forever Living Products, a well-respected manufacturer of health, wellness, and skin care products uses aloe vera plant as a main ingredient.
FLP Sonya skin care products can help rejuvenate and moisturizes the skin. Sonya's collection of skin care can nourish, protect and maintain the appearance of the skin as well as improve it. That's why, using Sonya skin care collection is a good idea as you can make your skin looking fresh and young.
Sonya Aloe Skin Care Kit
Sonya skin care kit contains everything you need to make your skin beautiful and healthy looking. The kit includes the following items:
Aloe Purifying Cleanser
Aloe Refreshing Toner
Aloe Nourishing Serum
Aloe Balancing Cream
Aloe Deep-Cleansing Exfoliator
How to Use Sonya Skin Care Kit
Using Sonya's collection is very easy as there are no extreme preparations or anything. For example, you just cleanse your face using the Aloe Purifying Cleanser in the morning and before going to bed.
To remove dirt and make skin fairer, use the Aloe Refreshing Toner twice a day. You should also apply the Aloe Nourishing Serum and Aloe Balancing Cream. Exfoliation is highly recommended, especially when you use Aloe Deep Cleansing Exfoliator.
You can look radiant, and young looking when you take care of your skin. Using skin care products can help you look younger than your age, especially if you also live a healthy lifestyle.
These days, it is crucial to protect your skin from pollution, free radicals, and other elements. You can protect your skin from the harsh environments by simply eating healthy food, exercising, and using the best skin care products like FLP Sonya skin care collection.
Fore more information Click Here