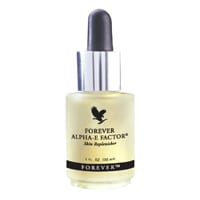 Are you wondering about how Forever Alpha-E Factor makes your skin look younger? Women all over the world several skin care products to maintain their youthful looks and protect their skin from harsh environments and other elements. However, most of skin care products available in the market are either too expensive or contains ingredients that can effectively smooth skin but not good use. Fortunately, there are still products that provide safe and effective anti aging skin care treatment.
Forever Alpha E Factor
Forever Alpha E Factor is an effective skin-replenishing agent, highly effective because it contains ingredients designed to improve the skin texture. This skin care treatment moisturizes the skin from within to give you smoother and younger looking appearance for as long as possible.
This skin care product is fortified with essential vitamins such as Vitamin A, Vitamin C and Vitamin E, including Bisabolol and Borage oil, and Aloe Vera gel. The anti aging skin care fights free radicals and other elements that slowly damage the skin and causes the onset of common early signs of aging.
What Are The Essential Ingredients of Forever Alpha E Factor
The following are ingredients that make Forever Alpha E Factor unique and highly effective skin care solution.
Vitamin A – This is a powerful antioxidant, it improves the skin elasticity while at the same time reduce scaliness by moisturizing the skin.
Vitamin C – This vitamin also improves elasticity, as well as reduces the formation of so-called scar tissue.
Vitamin E – This vitamin is well known for fighting free radicals that cause skin aging. Vit E is the skin vitamin, so there is no doubt that it can softens the skin from within.
Borage Oil – Borage is very popular as it provides the skin with essential fatty acid or gamma linoleic acid. Borage oil further intensifies the restoration of the skin moisture.
Lecithin – This is another essential ingredients as it helps improves the skin smoothness and suppleness.
All these ingredients, including soybean oil, bisabolo, capric triglyceride and others can definitely protect and nourish the skin from within.
Why Use Forever Alpha E Factor
Enhances elasticity
Balances and normalizes dry skin
Great for people with sensitive skin
Powerful antioxidants
For more information about Forever Alpha E Factor , visit my website.