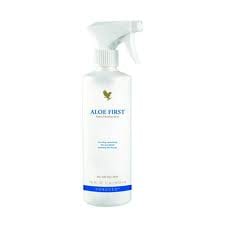 First aid is important as the emergency treatment provides immediate care to someone injured. It is imperative for everyone to know how to administer first aid as knowing the proper way to handle injury or emergency even if you are not a doctor can even saves lives but to do so, you must have first aid kits. Parents with children should have one at home and car to treat minor injuries.
First aid kit is necessary to have in your home, well stocked and place in a dry area. You can easily handle minor problem when you have the right equipment like Aloe First, a skin care protection from Forever Living Products.
What Is Aloe First
Aloe First is a skin protector, specially formulated to provide immediate relief to minor skin irritations. This skin protector is good to include in your first aid kit because it can soothe the skin and very easy to use.
Take note, Aloe First is very effective because it contains ingredients such as stabilized Aloe Vera gel, Allantoin, Bee Propolis and other plant extracts. You see, Bee Propolis can boost the efficiency of aloe vera gel properties in providing soothing relief and protection while Allantoin provide extra skin protection just like the aloe vera plant. The other plant extracts contains beneficial properties when combined with aloe vera gel, Allantoin and Bee Propolis turns into one powerful skin protector.
Why Include Aloe First to Your First Aid Kit
The following are reasons why you should include Aloe First to your first aid kit:
Provide soothing relief to the skin after burns, minor cuts, sunburn and scrapes.
Soothes bites, stings and rashes.
Protect hair from chlorine and environment.
Protect the skin from pre-perming solution.
It is an excellent alternative to aftersun lotion.
Soothe the skin from prickly heat.
Aloe First is excellent first aid to minor skin irritations, cuts, bruises and as protection to harmful products like perming solutions. Aloe First is safe to use even by kids and people with sensitive skin. It is a good idea to include this to your first aid kit simply because it can help soothe and protect the skin efficiently and naturally.
For more information about Forever Living Products , visit our website by clicking the link.